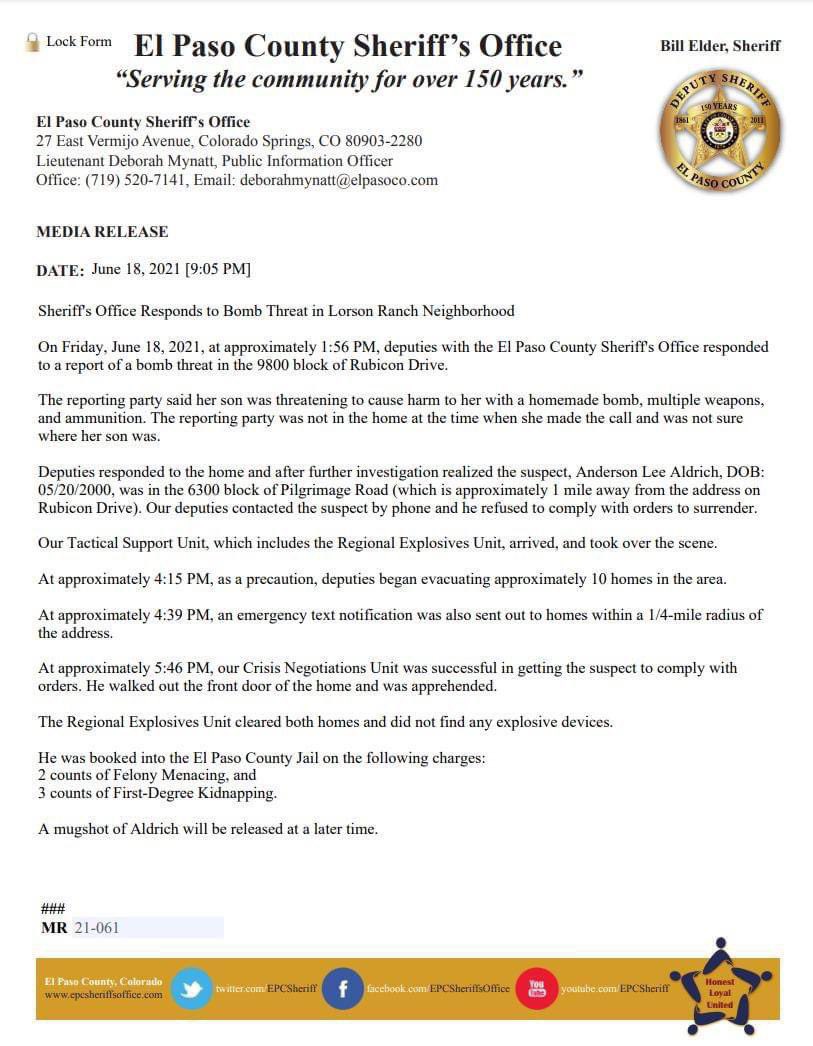 A man opened fire in Club Q, a self-described LGBTQ club, in Colorado Springs, CO, late Saturday night. Five people were killed. At least 18 people were injured by gunshots or in the stampede to escape. The shooter was 22-year-old Anderson Lee Aldrich. Aldrich was overpowered by customers and held until police arrived. According to police reports, he was armed with a "long gun," and "two guns" were recovered at the scene. It is unclear if this means the gun used in the shooting, plus one other or two others. "Long gun" is also not defined, but if it had been an "assault rifle," I think that would have come out in the police press conference.
Though police said the shooter had no previous criminal record, it seems like they were, as the Brits say, "being economical with the truth." A 21-year-old man named Anderson Lee Aldrich, living in Colorado Springs, was arrested in June 2021 for "two counts of Felony Menacing and three counts of First-Degree Kidnapping." He was never charged or convicted, and according to some reports, the record is sealed.
https://t.co/PIeQXDB6bM pic.twitter.com/tvcnM4vzo6

— siraj hashmi (@SirajAHashmi) November 20, 2022
Saturday night's entertainment was a drag show and "punk alternative show."
There is no word on a motive, but the owners of Club Q are styling it as a "hate attack." The FBI is on the scene, so we'll soon find that President Trump and the Russians were behind it all, and it is linked to January 6.
This is what you need to look out for in the coming days. First, the anti-gun forces are going to take a back seat in weaponizing this tragedy. Second, LGBTQIA2S+ activists will use this shooting to claim that criticism of LGBTQIA2S+ activities, particularly that involving teaching it in schools and grooming young kids into that lifestyle, is responsible for this attack. Get ready to learn a new phrase, "stochastic terrorism." From Dictionary.com, which seems down with the struggle:
the public demonization of a person or group resulting in the incitement of a violent act, which is statistically probable but whose specifics cannot be predicted:
The lone-wolf attack was apparently influenced by the rhetoric of stochastic terrorism.
They are already after Governor Ron DeSantis.
It's called stochastic terrorism

After the dust settles from a mass murder at an LGBTQ+ nightclub in Colorado Springs with Saturday night drag shows, let's talk about how GOP pols like Ron DeSantis spent the election making drag shows Public Enemy No. 1 https://t.co/rOek7VSs4Y

— Will Bunch (@Will_Bunch) November 20, 2022
They are also going after anyone who stands in their way.
Republican rhetoric is getting LGBTQ+ people killed. They were told and warned, yet they persisted with stochastic terrorism that turned deadly. They didn't have to pull the trigger, but they provided the ammunition. It's time to stop.

— Elijah Manley (@iElijahManley) November 20, 2022
It's not hard to draw a straight through line from the dehumanizing rhetoric, gun fetishism and ties with violent extremist gangs, to acts of stochastic terrorism against LGBTQ people.@LaurenBoebert has blood on her hands.

Excerpt from @BreneBrown:https://t.co/1YqQ5A7eNd pic.twitter.com/PZ7LzD2Z1c

— Devin Nunes' Alt-Mom @[email protected] (@NunesAlt) November 20, 2022
Stochastic terror becomes real terror. Those dead in the LGBTQ+ bar Club Q only died hours ago. They were to have a drag brunch today.

Libs of TikTok is attacking another drag brunch in Colorado and a trans legislator only hours later.

Elon Musk let them stay on the platform. pic.twitter.com/Cx7YyXoWZD

— Erin Reed (@ErinInTheMorn) November 20, 2022
Stochastic terrorism incites violence. People who try to dehumanize the LGBTQ+ community using lies and conspiracy theories and weaponized disgust are dangerous https://t.co/0MQ0ue8XWo by @SeattleBryn on @sciam

— Laura Helmuth (@laurahelmuth) November 20, 2022
@laurenboebert deleted this Tweet. Anderson Lee Aldrich murdered 5, injured 12 last night in a night club known for its representation and support of the LGTBQ community.
Do not let "government officials" pretend people aren't listening to and acting upon their rhetoric.#ClubQ https://t.co/Xvm9QO5f86

— TriniFromLI-🥂to Lee Zeldin's ElectionNightTears (@OlsenTrini) November 20, 2022
This is because of @libsoftiktok.
This is because of @TuckerCarlson.

When you lie about a whole group of people long enough, someone eventually takes matters into their own hands.

Demonizing LGBT people doesn't win Republicans elections, but it does get us killed. pic.twitter.com/aEiUi8gTkY

— Keith Edwards (@keithedwards) November 20, 2022
"Stochastic terrorism" is just a silly concept that dovetails with "words are violence" and opens the gate for any favored group to shut down all debate because the very existence of the debate will drive people to violence. Of course, no one, at least no sane people, believes it exists, but it is a handy cudgel with which you can belabor your opponents.
Trending on Redstate Video